Baltimore Ravens Team History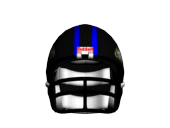 After an 11-year absence, pro football returned to Baltimore, Md. in 1996 in the form of the new Baltimore Ravens."This is a new beginning and a new era for us," Ravens owner Art Modell told fans at the team naming ceremony.

With fans playing an integral role, the selection of the nickname "Ravens" was inspired by the poetry of former Baltimore resident, Edgar Allan Poe. From a list of more than 100 possible nicknames presented by NFL Properties, club executives narrowed the list to 17. Focus groups of 200 people from the Baltimore area trimmed the list to six. A telephone survey of 1,000 fans shortened the list to Ravens, Marauders and Americans. Fans were then invited to participate in a phone-in poll conducted by the Baltimore Sun. Of 33,288 voters, nearly two-thirds (21,108) picked Ravens.

"Ravens gives us a strong nickname that is not common to teams at any level, and it gives one that means something historically to this community," Modell stressed.

Although the team does indeed bring "a new era" of pro football to Baltimore, many of the on-the-field "growing pains" a new team typically endures may be escaped by the Ravens. A veteran team that had already played as a unit, the Ravens hired head coach Ted Marchibroda. The popular veteran coach was head coach of the Baltimore Colts from 1975 to 1979. In his first year at the Colts' helm, Marchibroda took a club that had posted a 2-12 mark in 1974 and engineered the then greatest seasonal turnaround in NFL history by producing a 10-4 record in 1975. The turnaround was the first time in league annals that a team moved from last to first in one season.

The Ravens wasted no time earning their first victory in franchise history. In their inaugural regular season game, the Ravens defeated the Oakland Raiders, 19-14, on September 1, 1996. A Memorial Stadium record crowd of 64,124 witnessed the historic moment.

Under the direction of Ozzie Newsome, General Manager & Executive Vice President of Player Personnel, the team built a solid foundation on offense and defense through free agency and the draft.

Then in 1999, the team hired long-time NFL assistant coach Brian Billick to handle the coaching reins. In just his second season, Billick, helped by a defense that allowed the fewest amount of points during a season in NFL history, guided the Ravens to a thrilling 34-7 victory in Super Bowl XXXV.